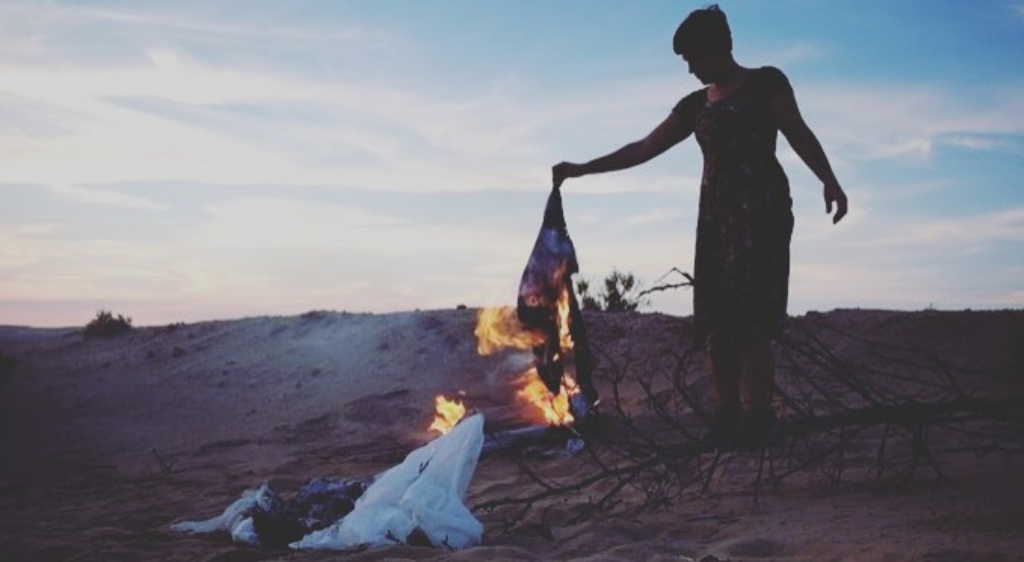 statement
There is nothing I believe in more than the ability for art to build, nourish, enrich, and transform our communities. When I reflect on my work, I think back to an essay written about T.S. Eliot's
The Waste Land
. This essay, when talking about the poem, and I will paraphrase here, says, 'what the poem does is it brings together a community of like sufferers and it gives that community the conviction to live their lives'. To not just exist, but to come together and to live with earnesty and authenticity.
The work I create exists for the purpose of articulating fire, of stoking fire within the lives of others, to stimulate the conviction of, 'I am not alone. I am part of a whole, and this community I exist within contains the power of a wildfire. That this wildfire community has the strength to grow, to burn down silos, to take loneliness and make it ash in the palm of our hands.' The mythology of the flame reflects on concepts of rebirth, beginning again, starting anew. And what I am creating here is not only something to destroy feelings of unbelonging, but to rebuild a more inclusive and healthy future.
When I say floral furnace I mean little light lady, I mean a fire drenched in flowers. When you hit a box of matches with a hammer they all light at once. When I set my wardrobe on fire in the desert I heard a siren go off in my mind. No I didn't actually, I couldn't hear the siren above the screams, no I couldn't hear the screams because my skin muffled the sound, and in this moment, my wings twitched beneath my overcoat.
People are birds with wings ingrown is a sentiment that, I think, connects us all. Frida Kahlo said, 'There is nothing worth more than laughter. It is strength to laugh, to abandon oneself. To be light. Tragedy is the most ridiculous thing.' When I reflect on laughter I find a home. Within my work, laughter is an entry point. Beauty is an entry point. Poetry is an entry point. Those entry points lead you down hallways of pain, struggle, trauma and eventually get you through doorways of light levity strength. The experience of my work is an all encompassing and endless journey toward community building, toward self discovery, toward healing.
bio
Born in Reading, Pennsylvania, Llio Zogra received their BFA in Studio Art at New York University. Upon graduating, Llio became a Fellow and then a Technical Specialist in the Visual Art Department at NYU Abu Dhabi. At NYUAD, Llio founded and directed The Cube gallery on campus. When LLio returned to the United States, they became the Community Ambassador Manager and then the Exhibitions Coordinator at GoggleWorks Center for the Arts. With goals of teaching in higher education, they are currently in the process of obtaining an MFA in Performance Art at the School of the Art Institute of Chicago.
Llio's first solo show, Night Light, took place in the NYU Abu Dhabi Project Room and was written up by Electra Street. Floral Furnace, Llio's third solo show, took place at Kalerie s čupr uměním Saigon and was written up by Studium Artium Magazin. Llio has been an artist-in-residence at DeLiceiras 18, an exhibiting artist at the Water Tower Art Festival, a studio artist at GoggleWorks Center for the Arts, and has been invited to be an artist-in-residence at Fish Factory Creative Centre of Stöðvarfjörður this coming year. Currently, Llio is an artist-in-resident at Temporary.Show.
In the spring of 2020, Llio began producing experimental spoken word music, prolifically. They released
Lullabies EP
,
Calliope Eclipses EP
, and with
tender indifference, | Act One
all within the season. Currently, Llio is working on a collaboration with Eric Capper in which they are composing a visual album for with
tender indifference,
which is an oral translation of the diary they kept while living in the room of leaves. The footage, which acts as the visuals, was shot over the last six years and documents Llio's journey of pre, during, and post diagnosis of Bipolar One Disorder.
Llio's community projects consist of Holly and The Neighbors and Black Widow Books. Rooted in the city of Chicago, Holly and The Neighbors catalyzes creative support networks on a citywide scale. Global in mindset, Black Widow Books is a publishing house and remote residency program that serves artists from every inhabitable continent. Through directing these two projects, Llio is able to spread the importance of art and accessible education.
---
contact

lliozogra@gmail.com
@calliope.eclipses
---
cv
Born
Reading, Pennsylvania, USA 1992
EDUCATION
2021, School of the Art Institute of Chicago, MFA Candidate Performance, Chicago, IL
2014, New York University, BFA Studio Art: Sculpture, Photography, Global Studies, NY, NY
CERTIFICATION
2020, School of the Art Institute of Chicago Wellness Center, Mental Health First Aid, Chicago, IL
WORK EXPERIENCE
2020-Present, Black Widow Books, Director, Chicago, IL
2019-Present, Holly + The Neighbors, Director, Chicago, IL
2019-20, Roger Brown Study Collection, Curatorial Assistant, Chicago, IL
2018-19, GoggleWorks Center for the Arts, Exhibitions Coordinator, Reading, PA
2017-18, GoggleWorks Center for the Arts, Community Ambassador Manager, Reading, PA
2015-16, NYU Abu Dhabi, Visual Art Technical Specialist, Abu Dhabi, UAE
2013-14, NYU, Administrative Assistant, New York, NY
2013-14, Judith Schwartz, Curatorial Assistant, New York, NY
2013-14, NYU, Ceramic Studio Monitor, New York, NY
2013, NYU, Fiber Studio Monitor, New York, NY
2013, Sana Musasama, Ceramics Apprentice, New York, NY
2013, Independent Art Fair, Intern, New York, NY
AWARDS & HONORS
2014, Student Excellence Award, NYU, New York, New York
2014, Founders Day Award, NYU, New York, New York
2010-14, Dean's List, NYU, New York, New York
2010-14, Steinhardt Merit Scholarship, NYU, New York
FELLOWSHIP & RESIDENCY
Upcoming,
Fish Factory Creative Centre of Stöðvarfjörður
, Artist-in-Residence, Stöðvarfjörður, Iceland
2020,
TEMPORARY.SHOW
, Artist-in-Residence, Virtual / Based in Porto, Portugal
2017-18,
GoggleWorks Center for the Arts
, Studio Artist, Reading, PA
2015,
DeLiceiras 18
, Artist-in-Residence, Porto, Portugal
2014-15,
NYU Abu Dhabi
, Global Academic Fellow, Abu Dhabi, UAE
SOLO EXHIBITIONS
2016,
floral furnace
, Kalerie s čupr uměním Saigon, Ostrava, Czech Republic
2015, people are birds with wings ingrown, NYUAD Project Space, Abu Dhabi, UAE
2014,
Night Light
, NYUAD Project Space, Abu Dhabi, UAE
SELECTED GROUP EXHIBITIONS
2019, Across Unbaptizmz in Lava Through The Pores Of444 Heads Birthing, No Nation, Chicago, IL
2019, REAL: the world as we see it, SAIC Sullivan Crit Space, Chicago, IL
2019, NYU Art Alumni Show, The Commons, New York, NY
2018, 14th Annual Studio Artist Exhibition, GoggleWorks Center for the Arts, Reading, PA
2018, Take Care, White Toy Box hosted by GoggleWorks Center for the Arts, Reading, PA
2018, In House, GoggleWorks Center for the Arts, Reading, PA
2017, We Lived Here, White Toy Box, Brooklyn, NY
2017, 13th Annual Studio Artist Exhibition, GoggleWorks Center for the Arts, Reading, PA
2016, Last 10, Water Tower Art Festival, Sofia, Bulgaria
2016, Break the Floor, White Toy Box hosted by Rabbithole Project, New York, NY
2015, Why is the Universe so Large, Flat and Full of Structure?, De Liceiras 18, Porto, Portugal
2015, Oasis, Soft Bread, Openings, De Liceiras 18, Porto, Portugal
2014, Bare Bones, The Outer Room, Brooklyn, NY
2014, From A to Be, Happy Life Inc., Brooklyn, NY
2014, Recycled Origins, The Living Gallery, New York, NY
2014, Echoes of Your Dusty Roots, The Outer Room, Brooklyn, NY
2014, new intentions, The Mess, Brooklyn, NY
2014, Never Too Soon, The Commons, New York, NY
2014, Berlin Becoming, Deutsches Haus, New York, NY
2014, The Body Show, The Outer Room, Brooklyn, NY
2014, Commons, The Commons, New York, NY
2013, Unhomely, The Commons, New York, NY
2012, Works Abroad, Berlinische Galerie Museum of Modern Art, Berlin, Germany
2012, Local Attractions, Atelierhof Kreuzberg, Berlin, Germany
CURATORIAL
2020,
Kissing Booth
, Holly + The Neighbors, Chicago, IL
2018, 14th Annual Studio Artist Exhibition, GoggleWorks Center for the Arts, Reading, PA
2018, Bewitching the Dybbuks, GoggleWorks Center for the Arts, Reading, PA
2018,
Take Care
, White Toy Box hosted by GoggleWorks Center for the Arts, Reading, PA
2018,
Holding Out For A Hero
, GoggleWorks Center for the Arts, Reading, PA
2017,
We Lived Here
, White Toy Box, Brooklyn, NY
2016,
Break the Floor
, White Toy Box hosted by Rabbithole Project, New York, NY
2016,
Intersecting Inbetweens
, White Toy Box, Abu Dhabi, United Arab Emirates
2015,
Not Here, Nor There
, White Toy Box, Brooklyn, NY
2015,
the ground
, White Toy Box, Brooklyn, NY
2014,
+ —
. White Toy Box, Brooklyn, NY
2015,
Welcome Home
, White Toy Box, Brooklyn, NY
TEACHING
2019, Lecturer, W[a/o]dering: Thoughts on Movement, Making, and Trasformation, Art History Department, SAIC, Chicago, IL
2020, Teaching Assistant, Zombie, Commodity, Avatar, Fetish: The Live in Performance, Performance Department, SAIC, Chicago, IL
2020, Teaching Assistant, Core Studio Practice II, Contemporary Practices Department, SAIC, Chicago, IL
2019, Lecturer, Floral Furnace: Performance Lecture, Performance Department, SAIC, Chicago, IL
2019, Teaching Assistant, Core Studio Practice I, Contemporary Practices Department, SAIC, Chicago, IL
2018, Workshop Leader, Artist Books Workshop, GoggleWorks Center for the Arts, Reading, PA
2014-16, Mentor, BA Visual Art Capstone Seminar, NYUAD, Abu Dhabi, UAE
2016, Instructor, Directed Study in Visual Poetry, NYUAD, Abu Dhabi, UAE
2016, Workshop Leader, Pop-Up Books Workshop, NYUAD, Abu Dhabi, UAE
2016, Workshop Leader, Erasure Poetry Workshop, NYUAD, Abu Dhabi, UAE
2015, Teaching Assistant, Wood: Liberal Arts Studio Core, NYUAD, Abu Dhabi, UAE
2015, Teaching Assistant, Architecture of the UAE, NYUAD, Abu Dhabi, UAE
2015, Workshop Leader, Bookbinding Workshop, NYUAD, Abu Dhabi, UAE
2015, Workshop Leader, Mark-making Workshop, De Liceiras 18, Porto, Portugal
2015, Workshop Leader, Figure Drawing Workshop Series, NYUAD, Abu Dhabi, UAE
2014, Teaching Assistant, Nomads, Liberal Arts Studio Core, NYUAD, Abu Dhabi, UAE
2014, Teaching Assistant, Experiments in Sculpture, NYUAD, Abu Dhabi, UAE
2014, Workshop Leader, Hand & Machine Sewing Workshop, NYUAD, Abu Dhabi, UAE
2014, Workshop Leader, Ceramics Hand-building Workshop, NYUAD, Abu Dhabi, UAE
PUBLICATION
2020, Shiver [Part One],
Pen Street: City of Poems
, Reading, PA
2020, Red,
Pen Street: City of Poems
, Reading, PA
2019,
Abstract Oxygen
, Headway Quarterly, USA
PRESS
2015,
Julie Stopper & Sofia Mish: Floral Furnace
, Studium Artium Magazin, Ostrava, Czech Republic
2014,
Night Light
, Electra Street, Abu Dhabi, UAE
WEBSITE DESIGN
juliestopper.com
hollyandtheneighbors.org
blackwidowbooks.org